Crime Stoppers Tasmania is partnering with City of Launceston, Cityprom and the Launceston Chamber of Commerce to encourage a safe and positive shopping experience across Launceston in the lead up to the Christmas shopping season.
According to the Australian Retailer Association, retail sales are expected to increase by 11.3% on pre-pandemic levels, with Tasmania forecast to have the strongest growth in sales towards Christmas with a 4.2% increase on the same period in 2020.
"While Christmas can be one of the most festive times of year, for many, it is also the most stressful," CEO of Crime Stoppers Tasmania, Jane Crosswell said.
"With Christmas usually leading to an increase in people shopping and moving around the city, unfortunately, the perceived pressure of the season can also result in increased incidence of shop stealing, anti-social behaviour and abuse of retail staff," said Mrs Crosswell.
"This behaviour can have significant financial and emotional impacts on staff and shopper safety, and store security," she added.  "Retailers are under increased pressure during this busy season.  We ask shoppers to respect those serving us and understand the negative impact poor behaviour and shop stealing can have on businesses and their staff.  Be kind and shop safe".
Retail crime costs us all.  Every single incident erodes profitability for businesses, increases the cost of goods to consumers, endangers frontline staff while also wasting their time, and ultimately reduces the appeal of our retail precincts to customers.
Statistics from the National Retail Association indicate that retail crime, such as shoplifting, robbery and vandalism, costs Australian businesses up to $9 billion each year, yet it is estimated less than 20% of retail crimes are reported to police.
Mayor of Launceston, Albert Van Zetten said "We are asking our community to get out and support our local traders in Central Launceston and indeed right across our municipality. "Everyone can play a part in making Launceston safer by sharing with Crime Stoppers Tasmania what you know about anti-social behaviour without having to say who you are".
Crime Stoppers urges Tasmanians not to walk by, but to call out crime if they encounter it. "If you See Something, Say Something".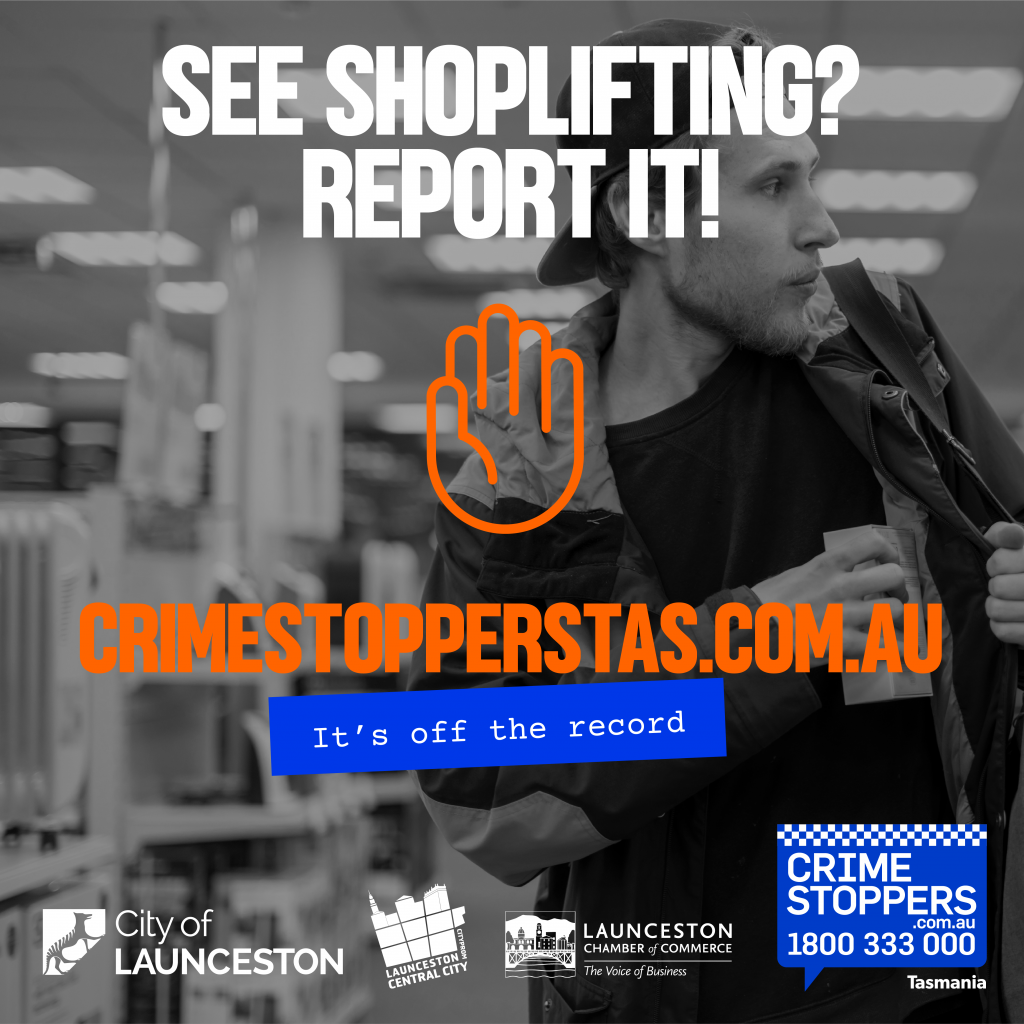 Shop Safe Toolbox