We need your help.
As a not for profit, community organisation and registered charity, we rely on donations, sponsorship and funding to continue our work. We are proud to partner with Tasmania Police, while remaining completely independent.
Three in four Crime Stoppers Tasmania's reports are now made online, so our digital presence especially needs to constantly evolve to stay relevant and valuable to the fight against crime.
We need funds and in-kind support to:
increase the use of Crime Stoppers resources to support education and increase community awareness
continue to develop more interesting and engaging media content to reach all demographics
provide a better service and explore opportunities to expand partnerships with law enforcement
keep pace with technology advances
explore high value crime prevention programs
broaden the community mindset to be more proactive through broader community engagement
preserve the anonymity of tipsters
Find out more about how you can help us keep Tasmania safe by contacting our office on 6173 2172.
Crime Stoppers Tasmania welcomes your support in helping to keep Tasmania safe.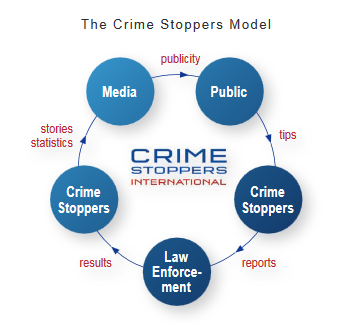 Make a donation – giving a little, helps a lot, to keep your community safe. We are endorsed as a Deductible Gift Recipient. Donations of $2 or more to Crime Stoppers Tasmania are tax deductible in Australia.
Become a corporate partner – our valued corporate partners provide cash donations and in-kind support. Crime Stoppers is a highly visible and widely recognised organisation. By partnering with us, you and your business can help make Tasmanian communities safer, and raise your profile as well.
Media partners – our media partners are central to our success. The Crime Stoppers model shows that we all benefit from the cycle of communication and information.