$700,000 in ICE stopped with a Crime Stoppers tip
The anonymous tip that prevented nearly 1kg of methamphetamine reaching our streets, is just one example of how people can give information to Crime Stoppers, that saves lives. The individual who gave this information to Crime Stoppers is now eligible for a financial reward, for stepping up to play their part in keeping Tasmania safe.
During a six-month national campaign focused on the illicit drug trade, Crime Stoppers has helped stop harmful drugs from reaching our communities. Crime Stoppers Tasmania joined forces with Tasmania Police to encourage the community who have information about the illicit drug trade to speak up, before it's too late.
Crime Stoppers Tasmania Chairman David Daniels OAM says that Crime Stoppers provides the perfect option for anyone with information about criminal activity; because they can anonymously share what they know without needing to get involved, make a statement or risk their own safety.
"We understand that people who are aware or involved in the illicit drug trade may not want to deal directly with police but still want to speak up", said Mr Daniels.
"Crime Stoppers offers them a way to share what they know anonymously, which means no one will ever know who contacted us", Mr Daniels said.
Another recent tip to Crime Stoppers resulted in the seizure of over 100 cannabis plants, with this anonymous person also eligible for a financial reward.
"These tips are among the many that are valuable to us and provide vital information to police investigations", said Mr Daniels.
"What has stood out with these featured tips is that they included photos or video as a form of evidence", said Mr Daniels.
"When you give your tip via our website, you can upload photos or video to support the information. If it's safe to do so, this provides valuable evidence; and it's secure, because we don't trace IP addresses or file data", Mr Daniels said.
Despite organised drug syndicates becoming more and more sophisticated, Tasmania Police continue to regularly seize significant amounts of illicit drugs – often thanks to information shared through Crime Stoppers.
Tasmania Police Assistant Commissioner Rob Blackwood said that Tasmania Police was committed to preventing the importation and distribution of illicit substances in our state and protecting our community.
"These are highly addictive drugs, and cause significant damage when distributed throughout the community.
"That's why Tasmania Police welcomes initiatives such as the Crime Stoppers National Illicit Drugs Campaign, which aims to encourage and empower the community to report information relating to illicit drugs to Crime Stoppers," Assistant Commissioner Blackwood said.
Over the past 6 months, Tasmania Police has seized a significant amount of drugs including:
Over 3kg of cocaine
246 Ecstasy tablets / MDMA
Nearly 8kg of methylamphetamine derivatives
Pharmaceuticals – Benzodiazepines [tablets] 642
Over 360 Opioid tablets
540 Cannabis Plants and nearly 77kg of cannabis
"We are well staffed and equipped to target this type of offending – which is demonstrated by our recent seizures.
"We work closely with Australia Post, airports and the Spirit of Tasmania and other partners such as the Australian Federal Police and Australian Border Force to ensure that our sea, air and mail corridors are not exploited by those wanting to profit from drug distribution.
"We actively investigate any tip offs or intelligence and conduct our operations accordingly, and of course we monitor repeat offenders very closely."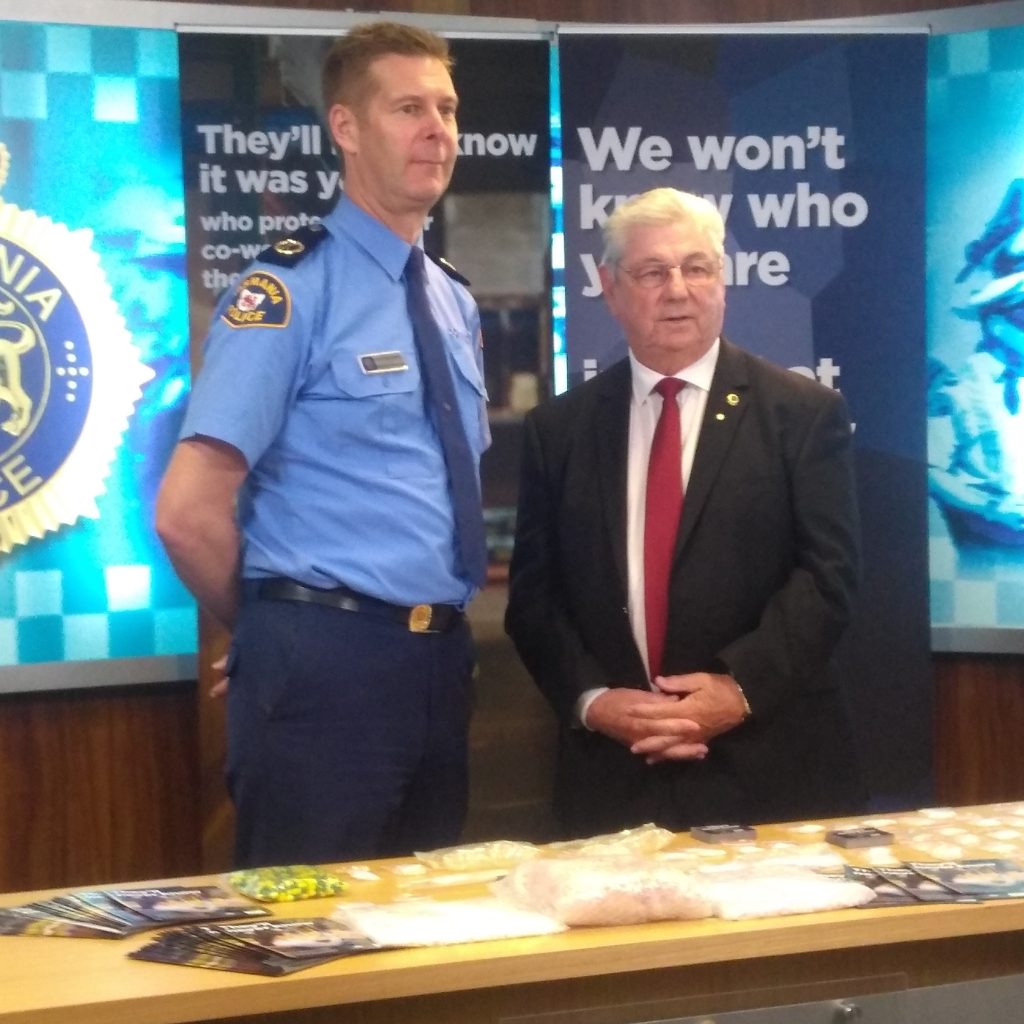 In Tasmania, over one third of contacts to Crime Stoppers are about illicit drugs in the community.
Independent research commissioned by Crime Stoppers found illicit drugs remain the number one crime of concern for all Australians, with recent wastewater testing results confirming methylamphetamine, cocaine, MDMA and heroin as the most dominant illicit drugs used in the nation.
We encourage Tasmanians to contact Crime Stoppers with any information on criminal activity or suspicious behaviour on crimestopperstas.com.au or 1800 333 000.
This campaign is an Australian Government Initiative