Crime Stoppers Tasmania has won two prestigious Crime Stoppers International awards for programs supporting populations of 300,000 to 1 million.
Crime Stoppers Tasmania has been awarded:
Specialised Program Award for Crime Stoppers Week 2021
Media Award for the website
Crime Stoppers International is an independent non-profit umbrella organisation. It is a global network covering North America, the UK, Netherlands, South Africa, the Caribbean, parts of Central America, and Australia; and is looking to expand its global footprint in Asia, Europe, Africa and South America.
Each year it recognises individuals, programs, activities and campaigns for excellence and for their contribution to the achievement of the Crime Stoppers International vision – to mobilise the world to report information on crime and criminals, anonymously.
Crime Stoppers Tasmania Chair Mr David Daniels OAM said the awards are a win for everyone in Tasmania. "These prestigious awards received entries from Crime Stoppers regions across the globe," said Mr Daniels. "We are very proud to be acknowledged for our efforts in helping to create a safer Tasmania, and we are even prouder of those who have taken the step to contact us, providing information on crime and suspicious behaviour.
"We are committed to supporting Tasmania Police and other law enforcement agencies, as well as community and business, to target crime and illegal activities," Mr Daniels said.
By offering anonymity and rewards (relating to charges and arrests) Crime Stoppers combats the three major problems faced by the police in generating crime-solving information: fear of reprisal, apathy and reluctance to get involved.
For 28 years, Crime Stoppers Tasmanian has offered people a safe and secure option to report information under the assurance of being completely anonymous, with no identifying information recorded or required.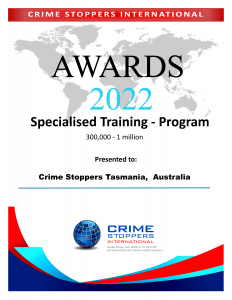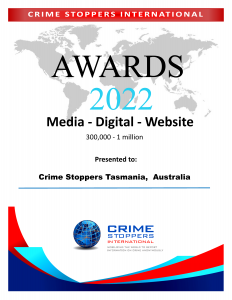 Information about the award winning projects
1. Crime Stoppers Week
Crime Stoppers Tasmania holds an annual Crime Stoppers Week targeting local issues. 2021 focused on illicit drugs, their entry points into our community, and the role Tasmanians play in fighting this serious crime. The 2021 campaign resulted in a 40% increase in reports specifically relating to crimes involving drugs. 
2. Website
The Crime Stoppers Tasmania website is centred around the vision "A safer Tasmania", designed to encourage connection with the user. It encompasses and portrays the updated brand messaging and creative. Particular attention has been given to consistent visuals, ease of navigation and more accessible language.
Crime Stoppers Australia received an award for the National Crime Stoppers Day 2021 Campaign, Not all Heros Wear Capes, for populations over 3 million. This was a successful online campaign which had strong reach and resonated with the community. The campaign encouraged everyone to help play their part in reporting information on crime and suspicious behaviour anonymously to Crime Stoppers.
Awards ceremonies have been held online on Facebook at: https://www.facebook.com/CSIWorld/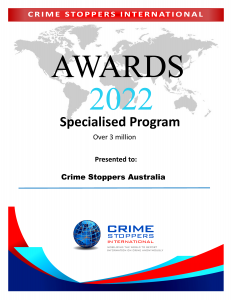 National Impact Report