An illegal gun is a dangerous gun.
​Say something before it is too late.​
Because no illegal guns in our community is our aim.
We will keep your information safe and confidential.
Illegal Guns – Crime Stoppers Australia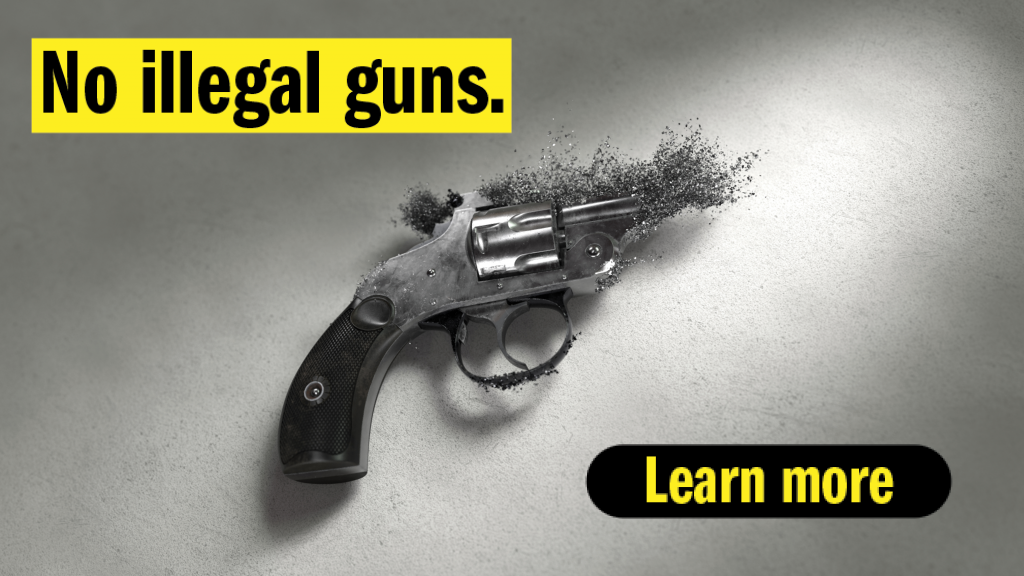 Crime Stoppers Tasmania is putting its support behind a national effort to reduce the number of illegal firearms in the community by asking people to share what they know about illegal guns and safely surrender any they may have, without penalty.
Crime Stoppers is partnering with Tasmania Police to raise awareness about this important community safety campaign, which builds on the success of a national firearms amnesty promotion last year that led to more than 11,000 guns surrendered or seized.
Crime Stoppers Tasmania Chairman, Mr David Daniels OAM, said all Tasmanians should think about how they would feel if they stayed silent about an illegal gun which was then used to harm or kill someone.
"Tasmania is certainly not immune from the devastating impacts that come with having illegal firearms in the hands of criminals. We have seen the tragic loss of life and severe injuries that occur when people turn a blind eye and allow illegal firearms to remain in the community," Mr Daniels said.
"If you suspect that someone has an illegal gun, share what you know with Crime Stoppers before it is too late. Report safely without the need to say who you are, get involved, or put yourself at risk of harm."
Assistant Commissioner Jonathan Higgins said that Tasmania was a safe place to live with one of the lowest crime rates in the country. However, he said that any illicit firearm was a concern to Tasmania Police.
"Firearms in the wrong hands are dangerous and are of utmost concern to police," Assistant Commissioner Higgins said.
"Police take every opportunity to take illegal firearms off our streets by having a permanent firearms amnesty, carrying out random firearms storage inspections and investigating diligently when firearms incidents or thefts occur.
"We actively investigate any tip offs or intelligence and conduct our operations accordingly, and of course we monitor repeat offenders very closely.
"That's why Tasmania Police welcomes the Crime Stoppers National Firearms campaign, which aims to encourage and empower the community nationally to report information relating to the use, possession, and trade of illicit firearms to Crime Stoppers.
"We need the community's help. We know that there are people out there in the community who know people in possession of illegal firearms.
"We need these people to come forward and provide information so we can take these illegal firearms off the street permanently."
A total of 531 firearms surrendered so far this financial year. 251 of those firearms have been destroyed by police, with a total of 1280 firearms being destroyed this year. (This includes court ordered destructions and firearms seized/surrendered in previous years that have been destroyed this financial year).
During the three-month campaign, community engagement events will be held across Tasmania to encourage people to share what they know about illegal guns, and to safely surrender any they may have in their possession.
To share information about an unregistered or illegal gun, contact Crime Stoppers on 1800 333 000 or go online at www.crimestoppers.com.au/illegalguns
Being caught with an unregistered or illegal firearm outside of amnesty conditions could result in a significant fine, imprisonment and a criminal record.
More information about how and where to surrender unwanted, unregistered and illegal firearms can be found at www.crimestoppers.com.au.