Crime Stoppers Tasmania has won two prestigious Crime Stoppers International awards for programs supporting populations of 300,000 to 1 million.
Crime Stoppers Tasmania has been awarded:
Print Media Award for the 25th Anniversary Publication, showcasing Tasmanian program achievements; and
Specialised Training Award for a community and industry led Retail Safety Campaign to combat anti-social behaviour, violence and theft in shopping precincts.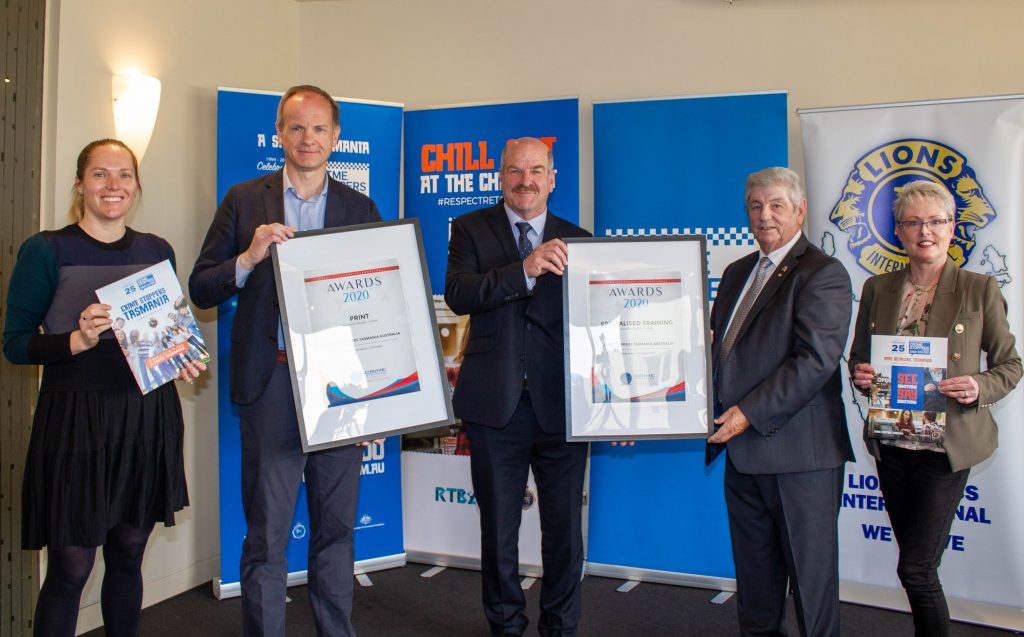 Crime Stoppers regions span the USA, Canada, Caribbean, Bermuda, Latin America, Europe, Australia, New Zealand, the Pacific and Africa. Each year, Crime Stoppers International recognises individuals, programs, activities and campaigns of excellence for their contribution to the Crime Stoppers International vision to mobilise the world to report information on crime and criminals, anonymously.
"These prestigious awards were highly contested with applications submitted from across the world by a field of strong competitors," said Mr. David Daniels OAM, Crime Stoppers Tasmania Chairman. "Tasmania has proven itself a world leader in crime fighting".
Sharon Hanlon, President of Crime Stoppers International, applauded the wins. "I am thrilled that Crime Stoppers Tasmania has been internationally recognised for being 'the best of the best' for a program serving a population of between 300,000 and 1 million in not one but two categories at this year's Crime Stoppers International 2020 Annual Media Awards.
"My congratulations to Chairman David Daniels OAM and his team for utilising the program's 25th Anniversary to create several awareness campaigns that promoted the value and purpose of Crime Stoppers Tasmania; and for working with stakeholders to develop and deliver a major retail campaign that addressed staff and shopper safety.
"Both initiatives will be showcased on the Crime Stoppers International website to allow our more than 800 Crime Stoppers programs worldwide to learn and benefit from Tasmania's experience and success", said Ms Hanlon.
Mr. Daniels said the number of reports to Crime Stoppers Tasmania more than doubled in the five years to 2019. "So thank you to all Tasmanians who use Crime Stoppers to look out for our community. At the end of the day it's Tasmanians and their communities who wins."
Thank you to the talented Group Production Services team at Federal Group for the design and production of our booklets.
Because of COVID-19, Awards ceremonies have been held online on Facebook at: https://www.facebook.com/CSIWorld/